Backstreet Boys in Reno!
Page 5
Remember, click on each picture to see a bigger version.
Nick, playing guitar, in his funky red wig, and I noticed that his blue guitar now has stickers on it! hmmm
A really good shot of AJ, Nick, and Howie... "Everybody, Backstreet's Back"
"Let's talk about 1, baby...you gotta hear me out..." AJ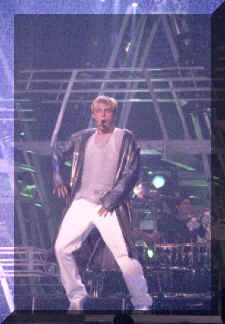 "Let's talk about what he's done to become your number 1" - Nick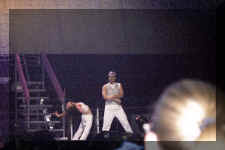 Kevin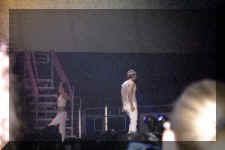 Nice bandana there Kev!
The choir boys from "The Call" - another shot that took 8 concerts to get right!
More robes!
"Looking back on the things I've done..." - Nick and Kevin
"Thanks and goodnight Reno!"
"Ya'll were a kick-butt audience... Reno ROCKS!!!!" ;-)
Bows with the whole group. sigh... we think it's over.... and head out to the car....
ONLY to get in and back out of the parking place and then see 5 busses drive by with a police escort!!!!!!!
The only shot that halfway turned out was this one of AJ's bus going by!
BYE GUYS!!!!!!!!! SEE ya next tour!!!